Vinyl Gates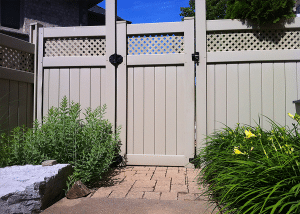 After installing the vinyl fences are you now planning to include the vinyl gates? Then you have come to the right place. At vinyl-fencing.ca, we feature an extensive collection of both walk through gates and drive through gates. Walk through gates are single swing gates that are pre-assembled gate available in different sizes, shapes, and designs. While, the drive through gates features a Drop pin that secures one gate to the ground while allowing the second gate to last the post.
At vinyl-fencing.ca, we are committed to ensuring high-quality products at your doorsteps and install them to enhance the beauty of your garden. Now you need not worry about rot, warp, or chip of the gates as vinyl gates will stay same for years to come.
Here are some reasons why you must choose US
High quality: Our vinyl gates are of great quality, yet quite affordable. At first, you might feel that vinyl gates are expensive, but when you compare the cost of maintenance and installation, you will realize that vinyl gates are quite affordable. Our vinyl gates are the best in the industry and feature lockable and adjustable black stainless steel self-closing latches. As the latches and hinges are made of stainless steel buyers can be sure that there will be no rusting and binding.
Hassle-free installation: We ensure hassle-free installation right from the start to end. Our team of experts will make it sure that you or your neighbors aren't troubled a bit. After the completion of the installation process, our team will leave the place neat and tidy.
Weather friendly: Our vinyl gates can easily withstand harsh weather conditions like heavy rain, heat, and wind. Our vinyl gates don't heat up unlike other gates made of metal and wrought iron which get very hot in the summers and results in loss of plants and other garden fruits/flowers.
Wide variety: We feature an extensive collection of vinyl gates in terms of design and patterns. However, if you are choosing one for the garden, then there are some unique designs to add some character to it. Our vinyl gates come with lifetime transferrable warranty and we can even design custom gates to suit your home design and needs.
No maintenance: Busy homeowners need not worry about maintenance as our vinyl gates are made of high-quality vinyl that doesn't warp or chip. Also, it is strong enough to remain unaffected by harsh UV rays. Our vinyl gates are very suitable for extreme weather conditions. As the wood gates need to be replaced every few years it is very annoying and costs a great deal of money.
Having more than 20 years of experience in installing vinyl gates with a lifetime warranty is what makes us different from our competitors in the market. This warranty is also transferable, so you do not have to worry about any extra warranty cost, which also includes the labor cost if needed and replacement charges.