Vinyl Decking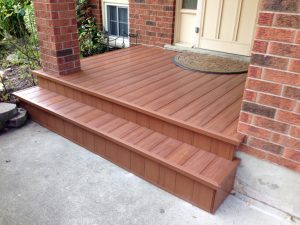 If you are a home owner and looking to add some elegance and functionality to your deck or planning to replace a rickety old deck, the vinyl decking is the right choice. It is one of the easiest ways to revamp your deck.
As a home owner, you must realize that your outdoor living space needs as much care as your indoor space. It is important to have a well-maintained deck as is not only enhance the appearance of the deck but also protect it as it is waterproof. Vinyl flooring is ideal for outdoors as it is designed to withstand the pedestrian traffic and available in a range of thickness, textures and colors. Vinyl decking is perfect for stairs, walkways, patios, decks and hot tub swimming pool areas. It is because vinyl decking is impervious to water and has slip-resistant properties.
With a large amount of experience in vinyl decking, we at Vinyl-Fencing.ca can help you decorate and enhance your home's exterior. We are a team of highly trained professionals who will answer all your vinyl decking needs. With more than a decade experience in vinyl decking, we will help you make the most of your outdoor living space.
Benefits of Vinyl Decking
Vinyl decking is virtually maintenance free, unlike wood that requires regular painting. Thus, you need not worry about the wood slivers, peeling paint, exposed nails, or ugly rotting wood space. Just spray it clean, and you need not worry about refinishing or staining.
You get the opportunity to select from a range of colors and design patterns when it comes to vinyl decking. If you don't want to compromise on the looks, you can quickly find the vinyl decking that closely resembles the wood finishing and grains.
Along with colors, vinyl decking is available in a range of dimensions depending on the type of vinyl decking you choose.
With vinyl decking, you get two options for plank surfaces- smooth or textured. So based on your personal preferences, you can select one keeping your preferences and exterior of the home.
Vinyl decking is as sturdy as it is durable. The high-quality of vinyl decking makes it stain and scratch-resistant so it can easily combat mold, insects, and mildew.
Vinyl decking may be comparatively expensive, but nevertheless, it lasts considerably longer than wood. It is not all; vinyl decking comes with lifetime warranty.