Vinyl Railing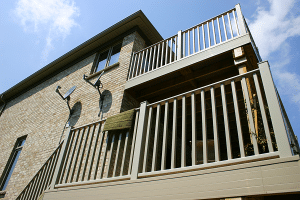 The vinyl railing is one of the best and easiest ways to give your home's exterior an updated look. If you want to revamp the outdoor appearance of your home, or accentuate your curb appeal, or simply build a safe outdoor area to spend quality time with family and friends outside the house as well, then vinyl railing is the perfect option for you.
At Vinyl-Fencing.ca, we provide vinyl railing services for your porch and deck along with lighting and planters. The installation services that we offer are not only affordable but also have a high lifetime value. As a professional and responsible company, we use environment-friendly vinyl railing materials for our go-green customers.
Why Choose Vinyl Railing?
There are many factors to prove that vinyl railing is better than any other conventional materials. Some of them are listed here:
The vinyl railing is comparatively stronger and more impressionable than wood.
In the case of weathered wood, it tends to lose its original appearance after a certain period but vinyl railing is not susceptible to change. Vinyl railing looks authentically beautiful right from the very beginning and doesn't lose its original physical appearance even after a significant period.
The best characteristic about vinyl railing is that it doesn't need maintenance. It helps you save a great deal of money and time with vinyl railing as there is no need to sand, paint or stain it every year.
Products made from wood often come without a guarantee, but with vinyl products come with lifetime guarantee service.
Vinyl railing escalates your property value, unlike wood, which tends to wear out and is subjected to replacement now and then.
Lastly, vinyl railing is economical as it is durable and maintenance-free