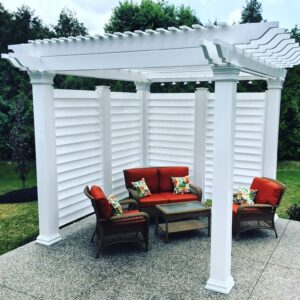 Custom Vinyl Pergolas: A Durable and Stylish Addition to Your Outdoor Living Space
A pergola is a stunning and functional addition to any outdoor living space. It provides shade, shelter, and privacy while enhancing the aesthetic appeal of your backyard or garden. With a custom vinyl pergola, you can create a unique and long-lasting outdoor living space that fits your specific needs and taste.
Why Choose a Vinyl Pergola?
Vinyl is an ideal material for pergolas due to its durability, low maintenance, and weather resistance. Unlike wood, vinyl does not rot, warp, crack, or fade when exposed to the elements. It is also easy to clean and requires no painting, staining, or sealing. Vinyl pergolas come in a range of colors, styles, and sizes to complement any home style or landscape design. You can choose from various textures and finishes to create a customized look that reflects your personality and lifestyle.
Benefits of Custom Vinyl Pergolas
Custom vinyl pergolas offer several benefits over prefabricated or standard models. A custom pergola allows you to fully personalize your outdoor space and create a tailored design that meets your specific needs and preferences. You can choose from various design elements, such as columns, lattice, trellis, and lighting, to make your pergola unique and functional. With a custom design, you can also ensure that your pergola fits seamlessly into your landscape and matches the style of your home and garden.
Another benefit of a custom vinyl pergola is that it allows you to optimize your outdoor living space. You can choose the right size and shape to fit your patio, deck, pool, or garden area. A well-designed pergola can provide extra space for entertaining, dining, lounging, or gardening. You can also add features like a hot tub, fireplace, or outdoor kitchen to make your pergola the focal point of your backyard.
Custom vinyl pergolas also offer increased durability and longevity compared to standard models. A professionally installed vinyl pergola can last for decades with minimal maintenance. You can enjoy your outdoor living space year-round, knowing that your pergola can withstand harsh weather conditions, UV rays, and pest infestations.
How to Get a Custom Vinyl Pergola
Getting a custom vinyl pergola is easy and affordable when you work with a professional pergola builder. At vinyl-Fencing.ca, we specialize in designing and installing custom vinyl pergolas that meet the highest standards of quality, style, and functionality. Our team of experienced professionals will work with you to understand your vision and create a unique design that fits your lifestyle and budget.
We use only the best materials and technology to ensure that your pergola is built to last. Our vinyl pergolas are made of high-quality, low-maintenance materials that are backed by a lifetime warranty. We also use innovative construction techniques that ensure a seamless and sturdy installation.
Conclusion
A custom vinyl pergola is an excellent investment that can enhance the beauty, comfort, and value of your outdoor living space. With a tailored design, you can create a pergola that reflects your style, meets your needs, and complements your home and garden. Contact Vinyl-Fencing.ca today to get started on your custom vinyl pergola project.